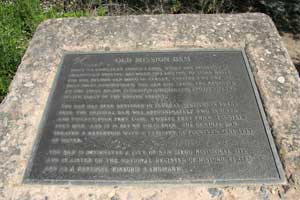 Photo Date: 5-14-06.
Another plaque says,
Old Mission Dam
Built by Kumeyaay Indian Labor, under the direction of Franciscan Priests, between 1813 and 1816, to store water for the mission San diego de Alcala, located two and one-half miles downstream, the dam and flume are regarded as the first major irrigation-engineering project on the Pacific Coast of the United States.

The dam has been restored in several sections in years past, the original dam was approximately two hundred and twenty-four feet long, twelve feet thick, fourteen feet high and it is set on solid rock. The original dam created a reservoir with a capacity of fourteen acre-feet of water.

This dam is designated a City of San Diego Historic Site and is listed on the National Register of Historic Places and is a National Historic Landmark.