| | |
| --- | --- |
| | This site is owned, designed, and operated by Kenneth A. Larson who has over a quarter century of experience in design and construction of scenery for the Entertainment Industry and Theme Parks using Computer Aided and Traditional approaches to Design. Ken also has experience in other areas of Design. |
Select photographs of my many visits to The Missions of the United States South and Southwest built by Spain and Mexico between 1565 and 1823.
All photographs taken by Kenneth A. Larson. All rights reserved. © 2008 - 2013.


#1, San Diego de Alcala
Photography Gallery
Mission Dam
About six miles upriver from Mission San Diego are the remains of the San Diego Mission Dam. The Dam site is now in Mission Trails Regional Park along Father Junipero Serra Trail, off Mission Gorge Road.

I found an accont of a dam "built three miles above the mission, a stone wall 250 feet long, 16 feet high and 10 feet thick was covered in cement. A tiled aqueduct, based on stones buried in cement, carried a stream of water a foot deep and two feet wide. This was the first irrigation system in the Western region."

The first time I visited San Diego Mission Dam was on January 11, 2004, shortly after the devastating fires that swept through San Diego that season. Most of Mission Trails Regional Park was closed and I was only allowed to go as far as the dam. I returned on May 14, 2006 and the park was open and there were hickers everywhere enjoying the many miles of hicking and bicycle trails. This time, I was able to hike to the overlook on the other side which I had seen from below the time before.

Photo Date: 5-14-06.

Missions Dam and Flume
After many attempts dating back to 1774 to provide a reliable source of water for crops and livestock for Mission San Diego de Alcala, a dam and flume system was finished between 1813 and 1816 by Indian laborers and franciscan Missionaries to divert water of the San Diego River for a distance of 6 miles. The Aqueduct system continued in existance until 1831 when constant flooding caused the dam and flume to fall into disrepair. They were not repaired due to secularization of the missions.
California Registered Historical Landmark No. 52.
First Registered Dec. 6, 1932. Plaque placed by the State Department of Parks and Recreation in cooperation with Mission Trails Regional Park, City of San Diego, and Squibob Chapter, E Clampus Vitus, May 2, 1992.

Photo Date: 1-11-04.
The engraving says:



Old Mission Dam
Built 1813-1816
A part of the first permanent irrigation project by Padres and Indians in California. Marker placed by the San Diego Chapter, Daughters of the American Revolution. May 17th, 1941

Photo Date: 5-14-06.
Another plaque says,
Old Mission Dam
Built by Kumeyaay Indian Labor, under the direction of Franciscan Priests, between 1813 and 1816, to store water for the mission San diego de Alcala, located two and one-half miles downstream, the dam and flume are regarded as the first major irrigation-engineering project on the Pacific Coast of the United States.

The dam has been restored in several sections in years past, the original dam was approximately two hundred and twenty-four feet long, twelve feet thick, fourteen feet high and it is set on solid rock. The original dam created a reservoir with a capacity of fourteen acre-feet of water.

This dam is designated a City of San Diego Historic Site and is listed on the National Register of Historic Places and is a National Historic Landmark.
| | |
| --- | --- |
| | Photo Date: 5-14-06. |
| | |
| --- | --- |
| Photo Date: 1-11-04. | Photo Date: 1-11-04. |
| | |
| --- | --- |
| Photo Date: 1-11-04. | Photo Date: 1-11-04. |
| | |
| --- | --- |
| Photo Date: 1-11-04. | Photo Date: 1-11-04. |
| | |
| --- | --- |
| Photo Date: 5-14-06. | Photo Date: 5-14-06. |
| | |
| --- | --- |
| Photo Date: 5-14-06. | Photo Date: 5-14-06. |
| | |
| --- | --- |
| Photo Date: 5-14-06. | Photo Date: 5-14-06. |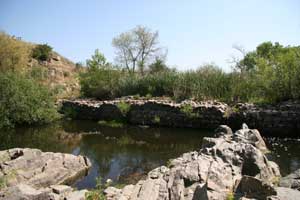 Photo Date: 5-14-06.

| | |
| --- | --- |
| Photo Date: 5-14-06. | Photo Date: 5-14-06. |
| | |
| --- | --- |
| Photo Date: 5-14-06. | Photo Date: 5-14-06. |
| | |
| --- | --- |
| Photo Date: 5-14-06. | Photo Date: 5-14-06. |
| | |
| --- | --- |
| | The mission was built aside the San Diego River. 1-11-04. |
This page last updated: Sunday, 11-Aug-2013 02:25:55 EDT
This page last updated: Sunday, 11-Aug-2013 02:25:55 EDT
Note:

This is not the official site for any of the places shown in US Mission Trail. US Mission Trail is not responsible for accuracy of the information. Hours of operations, prices, and exhibits are subject to change without notice.
Support this Web Site


I hope that you find this web site helpful. It started because of my love for the California Missions and interest in History. I don't allow paid advertising (but this may change). This web site is for your benefit and enjoyment and I make no profit on it. For ten years it has been supported primarily from my regular paycheck as a Set Designer and there haven't been many the last few years. I can no longer run it without help. Alternative funding is needed. A non-tax deductable donation helps cover the cost of operating this web site and may be made to Kesign Design Consulting through PayPal.

Buy my Photographs or Art.



Or donations can be mailed to the address on the contact page.
If you are in the need of a designer, please see my portfolio site www.kesigndesign.com.

or Set Design Portfolio.
This site maintained by Kenneth A. Larson.
Copyright © 2004 - 2015, Kenneth A. Larson. All Rights Reserved.
Website content including photographic and graphic images may not be redistributed for use on another website.