| | |
| --- | --- |
| | This site is owned, designed, and operated by Kenneth A. Larson who has over a quarter century of experience in design and construction of scenery for the Entertainment Industry and Theme Parks using Computer Aided and Traditional approaches to Design. Ken also has experience in other areas of Design. |
Select photographs of my many visits to The Missions of the United States South and Southwest built by Spain and Mexico between 1565 and 1823.
All photographs taken by Kenneth A. Larson. All rights reserved. © 2008 - 2013.


#10, Santa Barbara Virgin y Martir
Photography Gallery
Mission Dam
About two miles north of Mission Santa Barbara, within the grounds of the Santa Barbara Botanic Gardens, are the remains of the Mission Dam, filter, and aqueduct.
Santa Barbara Botanic Garden: (where the mission dam is located)
1212 Mission Canyon Road
Santa Barbara, CA
To get to Santa Barbara Botanic Garden to see the dam, exit the mission parking lot and turn left onto Los Olivos and follow it counter-clockwise around the front of the mission. Follow Los Olivos through it curves and a name change to Mission Canyon Road and follow to Foothill Road. Turn right and then after a few blocks, turn left back onto Mission Canyon Road. Follow to the Gardens. Be carefull and watch the signs, it gets confusing. We got lost returning once.
| | |
| --- | --- |
| Front of Dam. Photo date: 5-15-04. | Front of Dam. Photo date: 5-15-04. |
| | |
| --- | --- |
| Dam. Photo date: 9-14-03. | Back side of Dam. Photo date: 5-15-04. |
| | |
| --- | --- |
| Front of dam. Photo date: 5-15-04. | Front of dam and sluice. Photo date: 5-15-04. |
| | |
| --- | --- |
| Sluice, looking down from the dam. Photo date: 5-15-04. | Sluice and dam beyond. Photo date: 5-15-04 |
| | |
| --- | --- |
| Sluce. 9-14-03. | Settling Box. 5-15-04. |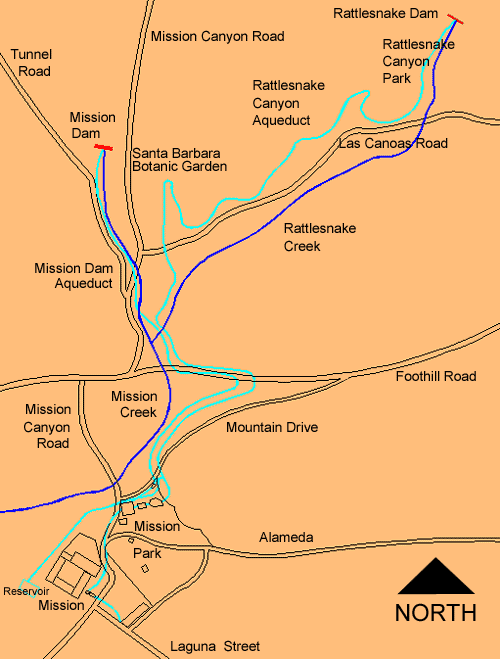 Map of Aqueduct System.



This page last updated: Sunday, 11-Aug-2013 02:37:32 EDT




Note:

This is not the official site for any of the places shown in US Mission Trail. US Mission Trail is not responsible for accuracy of the information. Hours of operations, prices, and exhibits are subject to change without notice.



Support this Web Site


I hope that you find this web site helpful. It started because of my love for the California Missions and interest in History. I don't allow paid advertising (but this may change). This web site is for your benefit and enjoyment and I make no profit on it. For ten years it has been supported primarily from my regular paycheck as a Set Designer and there haven't been many the last few years. I can no longer run it without help. Alternative funding is needed. A non-tax deductable donation helps cover the cost of operating this web site and may be made to Kesign Design Consulting through PayPal.

Buy my Photographs or Art.



Or donations can be mailed to the address on the contact page.
If you are in the need of a designer, please see my portfolio site www.kesigndesign.com.

or Set Design Portfolio.
This site maintained by Kenneth A. Larson.
Copyright © 2004 - 2017, Kenneth A. Larson. All Rights Reserved.
Website content including photographic and graphic images may not be redistributed for use on another website.